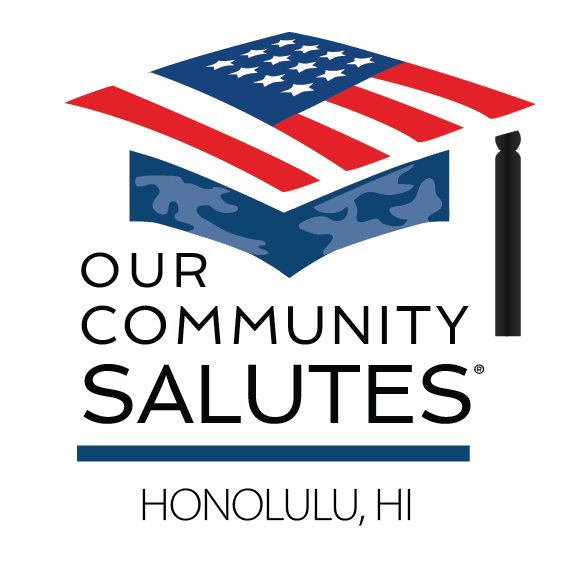 You are cordially invited to the Sixth Annual Our Community Salutes (OCS) - Hawaii High School Enlistee Recognition Ceremony and reception on April 27, 2019. The purpose of this event is to recognize and honor Oahu's high school seniors (and their parents) who plan to enlist into the military after graduation this spring.
Our Community Salutes (OCS) of Hawai'i is a community based initiative to recognize and honor graduating high school seniors, and their parents/guardians, who plan to enlist in the Armed Forces after graduation. OCS started in 2009 in southern New Jersey and has expanded to over 100 similar programs to be conducted across the United States in 2018.
The Recognition Ceremony will allow grateful citizens to publicly recognize, honor and thank the estimated 100 courageous and patriotic young men and women who will enlist to serve our Nation in the uniform of each of our Armed Services this year. The celebration will take place at Moanalua High School, from 9:30 am to 12:00 pm on April 27, 2019. We expect over 300 students, parents/guardians, guests, educators, veterans organizations, community & business leaders, and sponsors to attend.
Invitation only Reception, 10:00 to 10:45 a.m.
High school honorees and guests will have the opportunity to meet and visit with Oahu's Community, business, and military leaders in an outdoor setting while enjoying light refreshments and patriotic music in a stand-up reception. Representatives from each military branch will be present along with government representatives, sponsors, and community leaders.
Recognition Ceremony, 11:00 to 12:30 p.m.
A traditional recognition ceremony, open to the public, will follow the reception and feature a key note speaker. Each enlisting high school senior will be individually recognized with distinction (a certificate and challenge coin) as they cross the stage by a senior official from their respective military service.
The organizing body for Our Community Salutes includes military veterans, community leaders, educators, and businessmen who value the importance of extending the spirit of Aloha and Mahalo to the courageous and patriotic young adults and their families who will step-up to serve the Nation after graduation as they join the 1% of Americans who serve in uniform.